#FFFFFF
The Colorado Water Conservation Board (CWCB) administers Colorado's Weather Modification (WM) Program, which issues WM permits, monitors WM activities and keeps the public informed about the state's WM activities. Colorado has conducted weather modification operations and research since the 1950s, and a program to permit weather modification has existed since 1972. After the significant drought starting in early 2000, many new WM permits have been developed. Colorado is a strategic state with the headwaters of eight major river basins, and downstream states are reliant on the snowpack and stream flow generated in Colorado.
New rules are in effect as of July 1, 2012. The rules are listed under Additional Information.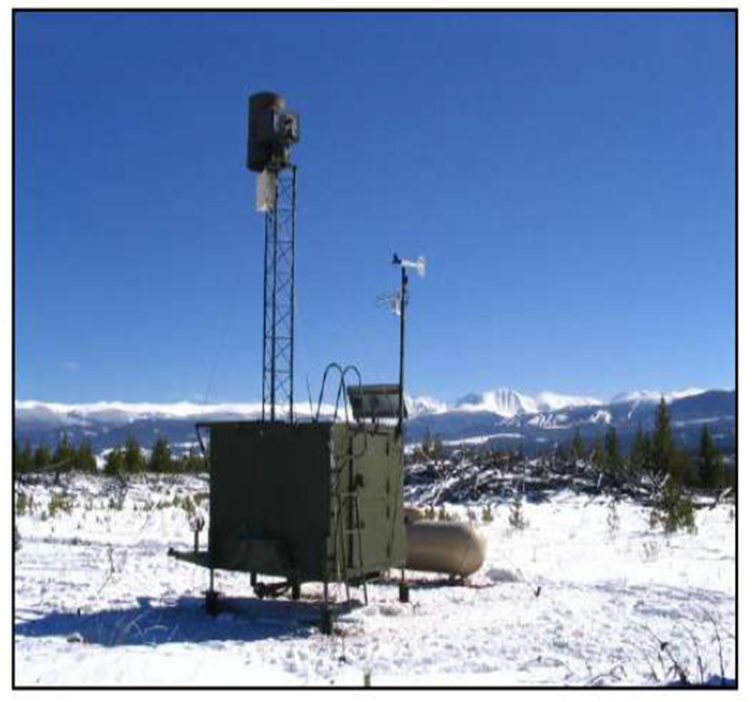 #FFFFFF
What Is Weather Mod

Cloud seeding is the primary weather modification activity recognized by the State of Colorado. Cloud seeding is the process of burning silver iodide through an ice nucleus generator that is carried up into the clouds to stimulate the precipitation process. There are many types of weather modification, including ground-based snowpack augmentation, airplane-based snowpack augmentation, airplane rain augmentation, hail suppression and hail cannons.

A permit is required to modify the weather in Colorado. Cloud seeding contractors must work with local interests to develop an operational plan and funding for a cloud seeding project. The contractor then can apply for a permit to cloud seed from the State of Colorado on behalf of the project sponsors. The person managing the project must be qualified. Public hearings are conducted, a record of decision is developed, and if issues can be resolved and/or addressed, the CWCB director signs the permit.

Weather Mod Permitting

Permits are for five consecutive years and are renewable. The permit review fee is $100 plus a 2% commercial fee. The commercial fee is 2% of the base contract between the contractor and project sponsors.

How to Apply for a Permit

Applicants should request the application forms from the CWCB (Andrew Rickert, 303-866-3441 x3249). Applications should be submitted at least 45 days before the intended beginning of the project.

In addition, the following requirements must be met by the applicant before a permit will be issued:

Public notice of intent in the target area and adjacent counties
Public hearing with the CWCB and Attorney General's Office
Qualifications adequate to conduct operations
Proof of financial responsibility and general liability insurance
Operational plan detailing the operations and naming the sponsors
Safeguards in place by the contractor and state

More detailed information about these requirements is available in the Permit Process document.

Colorado's Permitted Projects

There are currently 8 permitted weather modification programs in Colorado:

Central Colorado Mountains River Basins (CCMRB) (Colorado River Water Conservation District, Front Range Water Council, Ski Areas of Breckenridge, Keystone, and Winter Park)

There are three total areas permitted under the CCMRB

Vail/Beaver Creek Program (Vail/Beaver Creek Ski Areas)
Upper Gunnison River Basin Program (Gunnison County, Upper Gunnison River Water Conservation District)
Grand Mesa (Water Enhancement Authority which is comprised of Collbran WCD, Fruitland Mesa WCD, Crawford WCD, Grand Mesa Pool)
San Juan Mountains Program (Southwestern WCD, City of Durango, Animas La Plata WCD, Durango Mountain Resort, Dolores WCD, Pagosa Area Water and Sanitation District, San Juan WCD, San Juan Resource Conservation and Development Council)
North Platte Basin Airborne Cloud Seeding Project (Jackson County Water Conservancy District)
North Platte Basin Ground-Based Program (Jackson County Water Conservancy District)
St. Vrain and Left Hand Program (St. Vrain and Left Hand Water Conservancy District)

Please visit the CWCB Map Viewer for the most recent GIS Information. 
Suspension of Cloud Seeding

The CWCB staff monitors snowpack, avalanche hazards, and other environmental conditions during winter. Using data from the Colorado Avalanche Information Center and NRCS Snow Survey Program maps, the CWCB will temporarily suspend or curtail cloud seeding activity in areas with high snowpack and high avalanche hazard levels when warranted. The additional snowpack is good for Colorado but thresholds are set on snow water equivalent to ensure that snowpack in a watershed stays within the realm of natural variability for the local climate. The triggers for snowpack are when snow readings at NRCS SNOTEL sites are at the high end of the 30-year average for that SNOTEL site.

Weather Modification Grants

Grants are currently only available for permitted cloud seeding programs. To leverage the Weather Modification Grants Program, you will need to develop a plan and funding at a local level, and then apply for a weather modification permit. Annual requests come from the local level project sponsors to the CWCB.

Application Deadlines: Permitted programs are encouraged to develop recommendations and proposals to submit to the CWCB by July 1 of each year to allow agencies to prepare for the following winter.
Weather Mod Studies

Silver Iodide Comparison to Propane Study

Additional Information